New due diligence guidance for supply chains in the garment and footwear sector have been released by the OECD.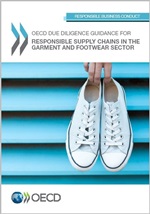 ‌The garment and footwear sector is one of the largest consumer goods sectors in the world. Although it represents an important economic driving force, the tragic collapse of the Rana Plaza factory in 2013 brought global attention to the risks of severe adverse impacts both in manufacturing but also further upstream.
The result of an extensive, multi-stakeholder process, this sector-specific guidance will help companies identify and prevent potential negative impacts related to human rights, labour, the environment and corruption in garment and footwear supply chains worldwide. It offers comprehensive and government-backed recommendations to business that address risks they may face in both manufacturing and sourcing materials. The guidance provides, for the first time, a common understanding of supply chain due diligence for the garment and footwear supply chains in line with the OECD Guidelines for Multinational Enterprises and the UN Guiding Principles on Business and Human Rights.
via Guidelines for MNEs – Organisation for Economic Co-operation and Development